Alachua County Jane Doe
Sex
Female
Race
Black
Location
Gainesville, Florida
Found
August 20, 2003
Unidentified for
13 years
Postmortem interval
1-3 days
Body condition
Decomposed
Age approximation
2 months - 1 year
Height approximation
1'10
Weight approximation
10 pounds
Cause of death
Not stated(S)2
Alachua County Jane Doe was an infant found floating in a pool in 2003.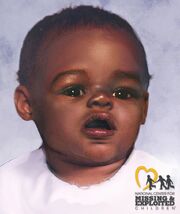 Ad blocker interference detected!
Wikia is a free-to-use site that makes money from advertising. We have a modified experience for viewers using ad blockers

Wikia is not accessible if you've made further modifications. Remove the custom ad blocker rule(s) and the page will load as expected.