April Lacy
Name
April Dawn Lacy
Sex
Female
Found
October 8, 1996
Location
Decatur, Texas
Missing from
Oklahoma City, Oklahoma
Identified
1998
Span
2 years
Age
15
Cause of death
Strangulation
April Lacy was a fifteen-year-old girl who was found murdered in 1996. She remained a Jane Doe for several years before she was identified. She was reconstructed by Karen T. Taylor. Authorities suspect she was a victim of a serial killer, although she was excluded to be a member of the Redhead murders.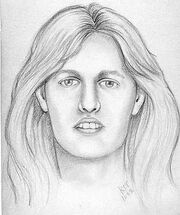 Media appearences
Lacy's skull, reconstruction and photograph appeared in Karen T. Taylor's Forensic Art and Illustration.
Links