Carlos Santana
Sex
Male
Race
Hispanic
Location
Santa Ana, California
Found
July 10, 1988
Unidentified for
29 years
Postmortem interval
N/A
Body condition
Recognizable face
Age approximation
17 - 23
Height approximation
5'1
Weight approximation
126 pounds
Cause of death
Vehicle accident
"
Carlos Santana
" was a young man hit by a vehicle in 1988.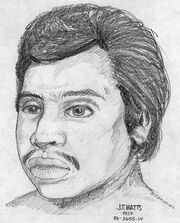 Ad blocker interference detected!
Wikia is a free-to-use site that makes money from advertising. We have a modified experience for viewers using ad blockers

Wikia is not accessible if you've made further modifications. Remove the custom ad blocker rule(s) and the page will load as expected.