Crescenta Valley Jane Doe
Sex
Female
Race
White
Location
Crescenta Valley, California
Found
June 26, 1983
Unidentified for
35 years
Postmortem interval
2 hours
Body condition
Burned
Age approximation
16 - 28
Height approximation
Unknown
Weight approximation
Unknown
Cause of death
Beating
This case contains graphic content that may not be suitable for all readers.
Crescenta Valley Jane Doe was a teenager or young adult found murdered in a trailer in 1983. Her murder was solved, yet she remains unidentified.
Case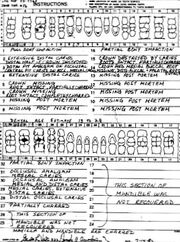 The victim had died from beating and was then burned. She had been sexually assaulted with a hose, which was still lodged in her body.
Links