Deanna Criswell
Name
Deanna Lee Criswell
Sex
Female
Found
November 25, 1987
Location
Marana, Arizona
Missing from
Spokane, Washington
Identified
February 11, 2015
Span
27 years
Age
16
Cause of death
Gunshot (homicide)
Deanna Lee Criswell (September 20, 1971 - November 1987) was a young woman found dead under an overpass in Pima County, Arizona. She was identified in February 2015.
While she remained unidentified, she was known by the name "Jane Doe 19".
Case
The decomposing body was found under an overpass. She wore a large amount of clothing, which indicated she may have been a runaway. Criswell was shot five times.
Identification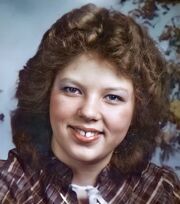 Deanna was identified after her aunt and uncle submitted their suspicions that the unidentified victim was their estranged niece. DNA testing confirmed that the victim was Deanna.
Deanna had been in a romantic relationship with William Ross Knight, who was infamous around the state for armed robberies. He died in 2005 due to liver problems.
Knight was linked to the scene in 2011 after his DNA was discovered on evidence from the scene, which has led authorities to conclude that he was, indeed, Deanna's killer.
Gallery
Links