Kim Mills
Name
Kimberlin Mills
Sex
Female
Found
June 17, 1978
Location
Blytheville, Arkansas
Missing from
Millington, Michigan
Identified
September 2017
Span
39 years
Age
19
Cause of death
Gunshot
Kimberlin "Kim" Mills was a young woman found shot to death in 1978. Her companion, found in Pemiscot County, Missouri, was seen with her alive before her death. She was identified in 2017. [1]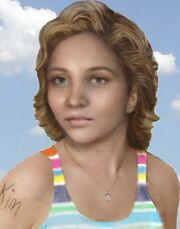 Ad blocker interference detected!
Wikia is a free-to-use site that makes money from advertising. We have a modified experience for viewers using ad blockers

Wikia is not accessible if you've made further modifications. Remove the custom ad blocker rule(s) and the page will load as expected.