Reyna Marroquin
Name
Reyna Angélica Marroquín
Sex
Female
Found
September 1999
Location
Nassau County, New York
Missing from
New York
Identified
1999
Age
27
Cause of death
Beating
Reyna Angélica Marroquín (December 2, 1941 - January 1969) was a woman from El Salvador who was murdered in New York. Her mummified body remained undiscovered for thirty years.
Case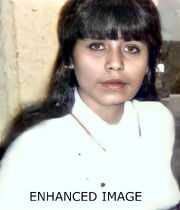 She was initially unidentified until an address book in her purse was dried and was used to track down one of her friends who was still living in the area. Reyna was killed by Howard Elkins, who was having an affair with Reyna and she later told his wife about the relationship. She was pregnant with Elkin's son upon her death.
Links