Wanda
Sex
Female
Race
Black
Location
Atlanta, Georgia
Found
April 5, 1995
Unidentified for
23 years
Postmortem interval
Days
Body condition
Decomposed
Age approximation
13 - 30
Height approximation
5'7
Weight approximation
140 pounds
Cause of death
Undetermined(S)
Wanda was a female found in a shallow grave in 1995. It is possible that she was seen alive prior to her death, using this name.
Case
The body was found behind a vacant house, which had been used for the manufacturing of crack cocaine. Wanda had died days before but was not facially recognizable due to the decomposition of her body.
Physical characteristics
She had brown eyes.
She had a noticeable gap between her upper front teeth.
She had a mole at the end of her right foot.
Her ears were pierced.
She had black hair in tight cornrows.
Clothing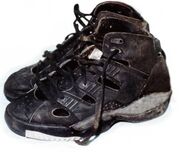 She wore a button-up short-sleeve shirt that was light blue.
Black Adidas sneakers
Blue jeans with a drawstring waistband
Multicolored underwear with a depiction of "Tweety Bird" and the phrase: "That's All Folks."
Theories
She may be Monica Bennett, missing from Georgia in 1989.
She may be Wanda Washington, missing from Indiana in 1993.
She may have been murdered.
She may have accidentally overdosed.
She may have been a prostitute or drug user that spent time at the drug house.
Links