Westchester County Doe
Sex
Unknown
Race
Black
Location
Rye, New York
Found
December 17, 1987
Unidentified for
30 years
Postmortem interval
3 months
Body condition
Decomposed
Age approximation
13 - 17
Height approximation
5'1 - 5'3
Weight approximation
N/A
Cause of death
Gunshot (homicide)
For the murder victim discovered in Westchester County in 1988, see Mount Vernon Jane Doe.
Westchester County Doe was an unidentified teen whose decomposed body was found in New York in 1987. The sex was initially believed to be male, yet investigators are unsure. The body is also unavailable for further identification.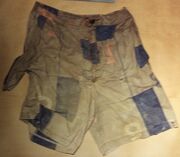 Links